Mike Mazzei, CFP®, MPAS®
President, Trinity Strategic Wealth
(918) 858-2802 | mike.mazzei@raymondjames.com
Mike Mazzei, CFP®, MPAS®, is the President of Trinity Strategic Wealth. A CERTIFIED FINANCIAL PLANNER professional, and MASTER PLANNER ADVANCED STUDIES, he created The Financial Freedom Process™ to help individuals leverage their wealth in order to help them achieve their lifetime visions. He enjoys helping retirees and entrepreneurs develop comprehensive life, financial and investment strategies that enable them to reach greater success, enjoy life to the fullest and leave lasting legacies.
In 2013 Mike authored and published his book, "Solving Your Financial Planning Puzzle."  Mike served in the Oklahoma State Senate from 2004 to 2016, representing Senate District 25, and was Chairman of the Senate Finance Committee for 10 years. He also served the people of Oklahoma as the Secretary of Budget from 2018 – 2020.
Mike earned a Bachelor of Arts in Government & Politics from George Mason University and a Master of Science in Personal Financial Planning from the College for Financial Planning. He and his wife, Noel, have five children: Maria, triplets Caleb, Carissa, and Mykaela; and Jackson. The Mazzei family belongs to Asbury United Methodist Church in Tulsa.
Click the icon below to Follow us on Facebook and to Connect with me on LinkedIn!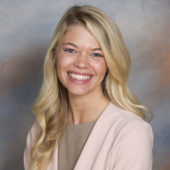 Ashlyn Mitchell, FPQP®
Executive Assistant to Mike Mazzei, CFP®, MPAS®
(918) 858-2817 | ashlyn.mitchell@raymondjames.com
Ashlyn Mitchell, Financial Paraplanner Qualified Professional™, is the Executive Assistant to Mike Mazzei, CFP®, MPAS®. She is from Sapulpa, Oklahoma and earned her bachelor's degree in Marketing and English from Oklahoma State University. She works closely with Mike and his clients to ensure the successful creation and implementation of each individual's comprehensive financial plan. Ashlyn's responsibilities range from progress session preparation, relationship management, schedule maintenance and coordination with client services and the entire Mazzei team.
When not working, Ashlyn spends time with her husband, Conor, and their dog, Ozzy. She likes to read, run, travel, & explore new restaurants throughout Tulsa.
Allison Fletcher, RFC®
Financial Advisor
(918) 858-2811 | allison.fletcher@raymondjames.com
Allison Fletcher is a Financial Advisor who joined the Trinity Strategic Wealth team in 2011. She is graduate of Oklahoma State University, with a major in Economics. After graduating she received the opportunity to work for one of the top Raymond James offices in Oklahoma.
Allison's expertise focuses on forming strong financial planning relationships while providing clear and concise strategies to help clients gain confidence for their future. Whether you are a successful business owner, widow or retiree, Allison collaborates with you to build, implement and manage your comprehensive financial plan. With the foresight of knowing that each road map to success never looks the same, Allison enjoys designing a plan that is tailored to each client's specific needs and wishes in the areas of investment, retirement, business, estate and tax planning.
Currently, she is enrolled at the College for Financial Planning, working towards her CERTIFIED FINANCIAL PLANNER™ designation. Allison and her family reside in South Tulsa. There, they stay busy with the children's various extracurricular activities and social outings. Her passions include cooking, family time, and giving back to the community.